Valentine's Day is right around the corner! And sending out Valentine cards does NOT have to stop after grade school. This year, White Ink Calligraphy and Darby Cards have teamed up to keep the card love alive and offer YOU all the opportunity to send out Valentine's Day cards! This is SUCH a great idea not just for your Galentines, your real Valentine (aka, your fiancÚ), but also for your bridesmaids! Keep reading to see how you can get in on the Valentine's Day love (and check out the gorgeous photos from Erin Lee Allender)...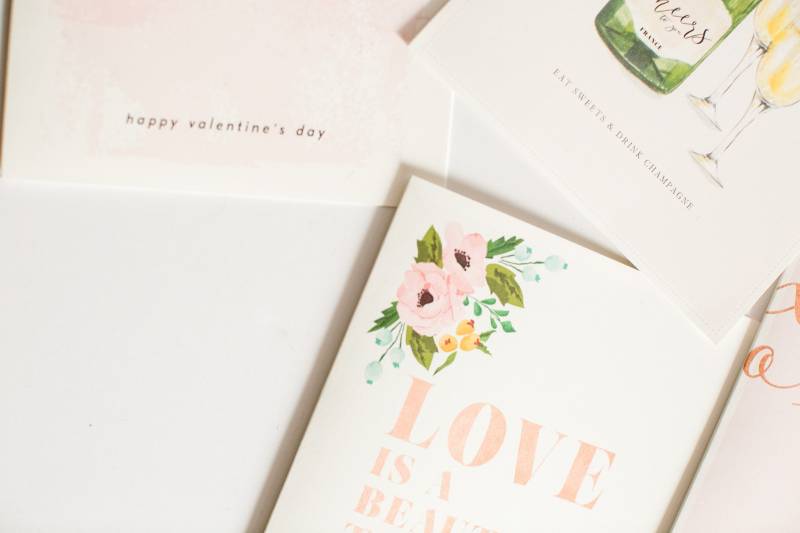 Lucky for us, White Ink Calligraphy + Darby Cards decided they wanted to SHARE THE LOVE to their Instagram followers! Claire of White Ink Calligraphy says, "I have so many followers that are past brides, past bridesmaids, event industry professionals, and calligraphy enthusiasts who I wanted to be able to offer a product that they can get excited about! VALENTINE'S DAY CARDS + Calligraphy!"
The cool thing about this collection is that Darby Cards has designed exclusive cards (4 different ones) just for this collab! While White Ink Calligraphy will offer recipient addressing; return address lettering - all in modern calligraphy; vintage postage; and a wax seal with a heart stamp on the back of the envelope. Plus, if you want to customize your order even further for your Galentines, Claire will even handwrite your message inside the card and mail the card for you prior to Valentine's Day! Or you can personalize them yourself by ordering the cards for pickup.