What's better than a real life proposal story for Valentine's Day? And this one in particular caught my eye as I was surfing Instagram... Local Nashvillians Lauren + Jon are a dynamic commercial pilot and flight attendant duo who have been dating for about a year. The couple frequently flies together and on their 1 year anniversary, Jon decided to pop the question... in the air! Sound familiar? Needless to say, their proposal video went VIRAL - I'm talking about national morning shows, talk shows, on every media outlet online... EVERYONE was talking about Lauren + Jon's proposal! I was so thrilled when Lauren agreed to an interview for Nashville Bride Guide, so I'll leave the rest of this post to her to tell the story (WAY better than I just did!)... take it away, Lauren! (And keep scrolling to watch their viral proposal video!).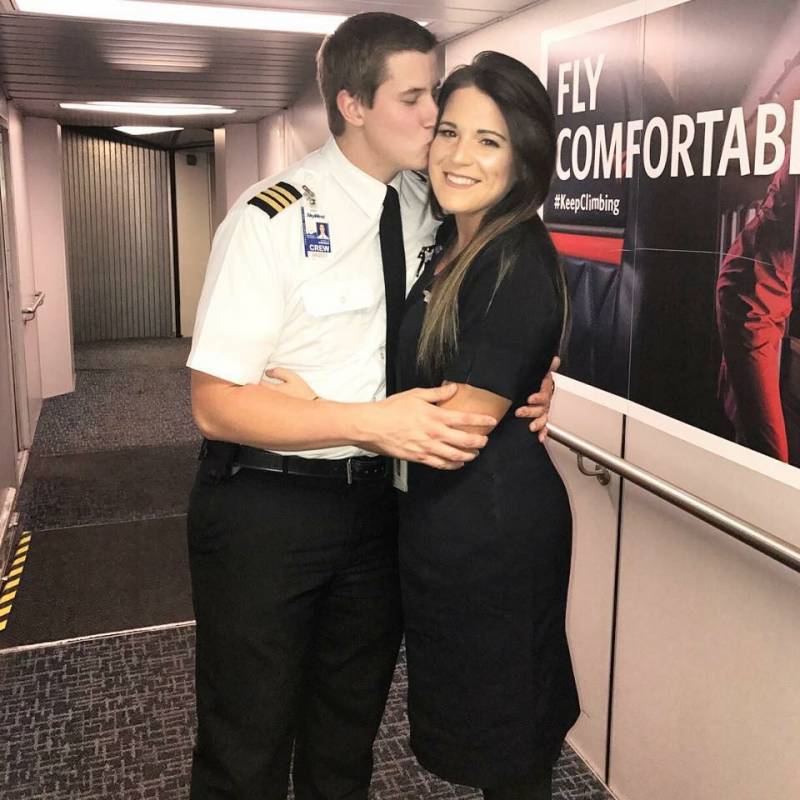 Lauren: Jon and I met when we worked a flight together when we were based in Minneapolis. We kept in touch, and he eventually asked me on a date! I thought he never would!! He had never been to Cracker Barrel before (he's from the north) so I decided that's where we would go on our first date! He loved it, by the way. We go there every month now to celebrate another month being together :) We've been together now "officially" a little over a year. He proposed on our one year anniversary!
Lauren: I am from Murfreesboro, TN. So just a few miles south of Nashville. All of my friends and family are still in the Nashville area and I go home as often as I can :) Jon is from Minneapolis, MN.
Lauren: Jon and I normally work every trip together now. It started off a normal day of working. I was working in the forward part of the aircraft (First Class). Jon came out of the cockpit to brief the cabin on how the flight was going to go that evening. He gave his spill, meanwhile I'm standing right beside him making funny faces to try and get him to laugh. Before I knew it he began taking about our relationship with passengers and told them we were celebrating our anniversary that day (December 23rd). He told the passengers he wanted me to remember the day for the rest of my life, and I instantly started crying. From there he got on one knee and asked me to marry him. I was jumping up and down with joy and wanted to scream YES at the top of my lungs! I tried not to scream in front of the passengers though, and I happily said YES! The passengers made the entire evening enjoyable! They were thrilled for the two of us and wanted pictures with us after the flight! Little did I know the entire video would go viral all over the internet in different countries a few weeks later...
Lauren: I have absolutely loved telling all of my friends and family I'm engaged! And of course, showing off this ring!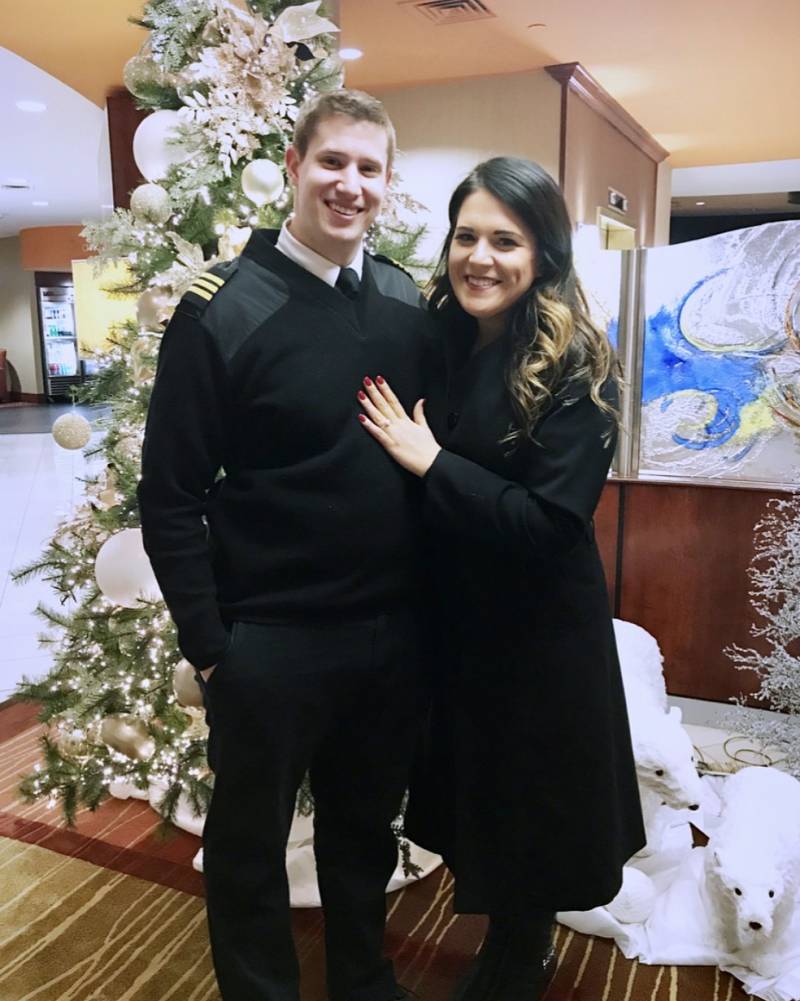 Lauren: It has been absolutely insane to see our engagement video go viral. We never would've thought our video would be shared all over the country, and all over different countries as well. I honestly think it was just shared by SO many people, it came across the desk of people who worked for the news media. It's so funny, because Jon is so shy, and he's honestly ready for our lives to go back to normal. At this point, I'm trying to meet Ellen!
Lauren: I am SO excited to have a Nashville wedding! I'm not entirely too picky about when, but it will DEFINITELY be in the Nashville area. We're planning on having a southern Barn theme wedding, if we can ever decide on a venue! And yes, there will be airplanes involved. :)
And if you haven't seen their viral proposal video yet, here it is below!
Thank you so much for sharing all about your proposal with us, Lauren! I'm so excited to follow along with your wedding planning journey and wish you all the best in your marriage!