There's no doubt that we love Street Tuxedo here at ABG. Now, we have another reason to love them, their newest addition: The Tux Truck. Created for the engaged couple on-the-go, the truck will come to your home, office, or special event to show you style and color options, get your measurements, and place your order. It's a fully-functioning Street Tuxedo store, on wheels and makes getting your Tuxedo for you wedding day, even easier!
This weekend we celebrated our independence....today, we show you how our new Tux Truck can give your schedule some independence as well. We get it, you are busy! Jobs, appointments, errands, the list goes on forever. Trying to squeeze in time for measurements is a chore. With our exclusive Tux Truck we come DIRECTLY to you. No need to go to the mall, do not even think about cutting your lunch break short. From large scale corporate black tie events to the most elegant of weddings, our large inventory is at your fingertips. Curious to see how easy? Watch this HD clip of our Tux Truck fit a wedding party with just one call! #OnTheStreet
Posted by Street Tuxedo on Monday, July 6, 2015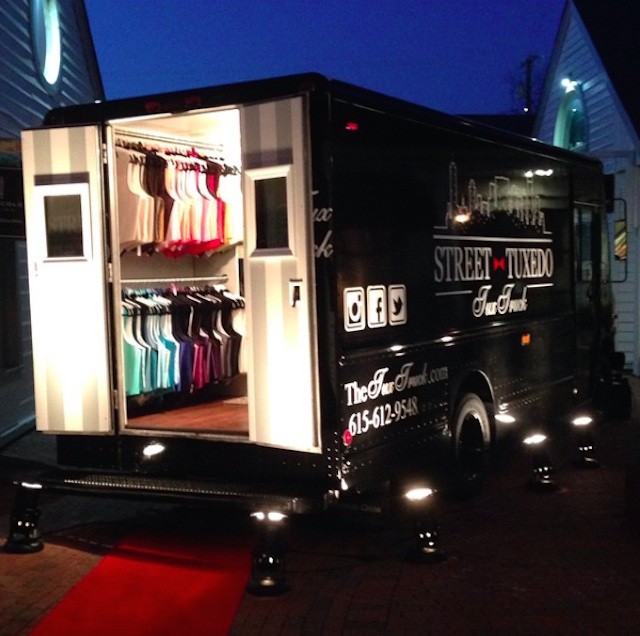 The Tux Truck makes it incredibly easy for brides and grooms to shop tuxedos without leaving their Middle Tennessee neighborhood.
With the Tux Truck, there are several packages to choose from:
Package 1: Personal Style Consultation - This option allows the bride and groom to schedule a time for the Tux Truck to come to their home. There they get to play with different color combinations and the groom gets to try on different styles. Once the colors and styles are selected, the "look" will be reserved for their wedding day!
Package 2: The Bachelor's Fitting - With this package, the Tux Truck can be scheduled to stop by before all the fun, and measure the groomsmen. It's an easy addition to the big night and has the added benefit of knocking out all of the groomsmen's measurements in under an hour!
Now it's easier than ever to find your wedding day tuxedo! Thanks to Street Tuxedo for sharing the Tux Truck with us!